About Our Course
Welcome to Cheap Driving Clinic. Below are the course(s) we currently offer. Click to find out more!
The cost of the course is just $47.95!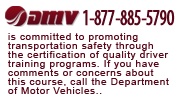 www Cheap Driving Clinic com is a member of the Traffic Safety Consultants, Inc., nationwide network. For over a quarter century, we are proud to have offered quality traffic safety courses backed by the industry's best customer service and support. Fun, easy-to-read text combines with colorful illustrations and informative charts to create a DMV-approved curriculum has been scientifically proven to reduce graduates' incidents of citation and collision. Sign up now for our outstanding driver improvement clinic, and we'll have you back on the road in no time!